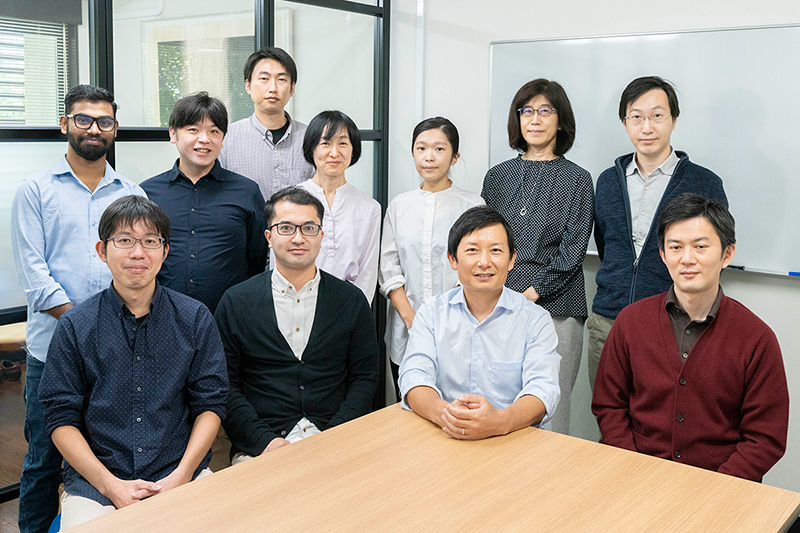 DEPARTMENT OF Biosystems ScienceLAB. OF Stem Cell Genetics
Professor

Kosuke Yusa
MESSAGE FROM THE LAB
MEMBER
RESEARCH
Stem cell and cancer biology empowered by genome-wide CRISPR-KO screening
Forward genetics is a non-hypothesis-driven approach, which allows for comprehensive identification of genes in volved in a phenotype of interest. By utilizing CRISPR-Cas9 technologies, we developed a powerful forward genetic method, named CRISPR-KO screening. This new technique allows us to conduct genetic screens in mammalian cells with higher efficiency in a wide variety of biological processes, and have been widely used in multiple laboratories. While we are interested in developing new genetic methodologies, we currently focus on hESC/iPSC biology as well as oncology research. Our long-term goal is to contribute to the development of novel therapies in regenerative medicine and cancer treatment with our findings through CRISPR screens.
CRISPR screening applications

As the first step of CRISPR screening, mutant cell libraries are generated by transducing Cas9-expressing cells with lentiviruses carrying a genome-scale guide RNA library. The cells are then subjected to phenotype-based screens, which are categorized into the following 3 types: survival/proliferation, resistance/sensitization, and cell sorting. Various biological processes can be assayed by utilizing marker genes in a cell-sorting setting. In all cases, the last step of the screen is next-generation sequencing analysis and statistical analysis.
Stem cell biology

Human pluripotent stem cells (hPSCs) such as embryonic stem cells and induced pluripotent stem cells express TRA1-60 almost uniformly (Left) and maintain their pluripotency for a long term. When cultured in an appropriate condition, hPSCs will differentiate, for example, TuJ-positive neurons (Right). These differentiated cells are then used for disease modeling or cell-based therapy. Our research aim is to understand the molecular basis of pluripotency maintenance and differentiation by using CRISPR screening technologies and to contribute to the development of regenerative medicine.
Oncology research

Cancers (photos, breast cancer cell lines) are caused by accumulation of genetic and epigenetic alterations and rely on certain biological pathways for their survival and proliferation. CRISPR screening can identify these genetic dependencies, which can be exploited for novel cancer therapies. Furthermore, genes involved in drug sensitivity can be identified by combining screening with drug treatment.
TOPICS